Best Email Marketing Service: Top 3 Affordable Options for 2019
If you're focused on getting customers to your website, then you'll probably agree that your marketing endeavors are critical to your business success. That's why choosing the best email marketing service can be instrumental in growing your revenues and sales. We'll go over the top email marketing services so that you won't have to select blindly from what is – to be quite honest – a very crowded field.
What Are the Benefits of Email Marketing?
There are countless marketing channels at your disposal from T.V. and radio to more newfangled mediums, like Facebook Ads and podcast sponsorship. Email was once a hot, new thing, but it's now just a commonplace feature of everyday life. While it doesn't have the cachet and buzz of social marketing or mobile messaging, there are plenty of reasons to make it one of your primary marketing platforms.
First of all, almost everyone has email, and they tend to check it every day. Secondly, it's pretty cost-efficient to use because the price of sending emails is virtually nil. Finally, the technology has been around long enough that utilizing it effectively is no mystery. Sending marketing materials through email has been refined into very nearly an exact science, so you won't have to flail about fruitlessly trying to find a strategy that works.
The numbers speak for themselves.
In 2017, the Direct Marketing Association found that using email for marketing generates average returns on investment in excess of 3,000 percent! In other words, every $1 spent on this form of customer retention and acquisition delivered returns of more than $30.
With that kind of performance, it's no wonder that 95 percent of marketers rated email marketing as "very important" or "important" for their organizations.
How to Identify the Best Email Marketing Service
In order to truly realize the full potential of email for your marketing purposes, you'll want to partner with a firm that has been there and done that. Attempting to reinvent the wheel from scratch means a lot of duplicated effort and the needless squandering of scarce resources. Look for the following features when shopping for the best services for email marketing:
Budget-friendliness: You'll want to find a solution that lets you fully realize the potential of the email format without dragging down your profitability with excessive fees and surcharges.
Automation: The price you pay to use a service is just one part of the equation. You must also consider the costs, in time and effort, of managing your email campaigns. Automated capabilities reduce the labor you'll need to expend.
Segmentation: The easier it is to group your contacts into categories, the better positioned you'll be to send them engaging content that appeals to them. Services that facilitate market segmentation lead to better conversion rates and enhanced bottom lines.
Customer support: No matter how intuitive and smooth an email marketing suite happens to be, it's inevitable that the occasional issue will crop up from time to time. Speedy and competent customer support lets you resolve problems with a minimum of downtime.
Analytics: The only way to really know if your current tactics are working is by examining the analytics. With the right analytic tools, separating success from failure becomes a breeze, allowing you to refine your techniques going forward.
The 3 Best Email Marketing Service Providers
We've done the legwork of evaluating and scoring the existing online email marketing services with an eye toward sparing you from the burden of conducting hours of research. Whichever of the three below companies you sign up with, you'll see that it's a piece of cake to manage your email customer outreach functions.

1. GetResponse
GetResponse has more than 15 years of experience in the marketing field, and it's now a global organization with offices in Europe, North America, and Asia. Its fully featured marketing solution is centered around email, but it has expanded over time to include a lot of additional functionality too.
GetResponse Package and Marketing Features
The autoresponders hosted by GetResponse are among the most comprehensive out there. You can send a welcome newsletter whenever a user first signs up and follow-ups at specified time intervals thereafter. Furthermore, you can send additional messages depending on actions that person takes, like purchasing a product or editing their contact details.
The autoresponder flowcharts put this suite a notch above most competitors. You can create diagrams showing how and when different email letters are sent out to a particular customer based upon their own personal interactions with your brand. These workflows can be created and edited through a graphical interface.
Automatically moving customers to different segments based upon preset criteria is supported.
You can compose your newsletters through a drag-and-drop interface. The standard templates won't win any design awards because they look a bit dated, but on the other hand, there are hundreds of them to choose from. They're pretty flexible because you can extensively customize them. GetResponse uses responsive design, and you can see what your email will look like on various types of hardware with the nifty preview feature.
Before sending your emails, GetResponse will identify any spammy language contained in them. This helps you avoid having your messages directed to the recipients' spam folders and should improve user engagement.
You can perform split testing for up to five variations of your email at a time. This is more than most other programs in this space. Sending different messages to different segments of your audience is possible, and you can include and exclude multiple categories simultaneously.
One oddity is that GetResponse doesn't refer to segments as such; instead, it calls them "saved searches." This has no impact on the power and utility of its segmentation capabilities though.
GetResponse Analytics
The analytics screen shows you a high-level overview of your campaigns, and you can click on them to drill down to more targeted info. You can view time-related metrics, like what hour of the day your readers click on links in your newsletter, making it easy to refine your timing. Geographic location, hardware platform details and customer history can all be viewed. GetResponse integrates with Google Analytics for even more comprehensive data analysis features.
GetResponse Extras
There have been many upgrades to the GetResponse platform lately, expanding its reach beyond traditional email marketing. This has won it a lot of fans who appreciate the fact that they don't need to invest in third-party tools to maximize their gains from the emails they send to their lists.
Some of the noteworthy perks that you will get to take advantage when you register for GetResponse include:
Landing page creation interface
100+ free stock photos
Webinar streaming tool (only at higher tiers of service)
Included CRM (only at higher tiers of service)
GetResponse Customer Assistance
The GetResponse help center contains the answers to frequently asked questions. In addition, a plethora of videos, podcasts, and articles aim to inform you of how to get the most out of this product. There's even something called "GetResponse University" that offers free courses and guides on topics likely to be of interest to marketers.
If none of these resources resolves your issue, you can contact support via email and live chat. Telephone-based support used to exist too, but it has been discontinued.
GerResponse Pricing
There are four types of service at GetResponse: Email, Pro, Max, and Enterprise. They start at, respectively, $15/mo., $49/mo., $165/mo. and $1,199/mo. The higher tiers remove some of the restrictions that limit those on the Email level, and they allow you to support a larger number of accounts.
As the number of email subscribers grows, the price increases accordingly even within the same category of service. For instance, the most inexpensive $15/mo. Email package allows you to send messages to up to 1,000 subscribers while this is increased to a max of 2,500 if you pay $25/mo.
Anyone springing for a year's worth of service upfront gets an 18 percent discount off the normal price. This jumps to 30 perfect when purchasing two years of service. The free trial period is 30 days.
For a well-rounded parcel of email marketing tools along with a few other related services, visit GetResponse today. Its powerful automated features ought to please you and free up some of your valuable time for other matters.
GetResponse Overview
Price: A
Features: A
Automation: A
Customer Support: B+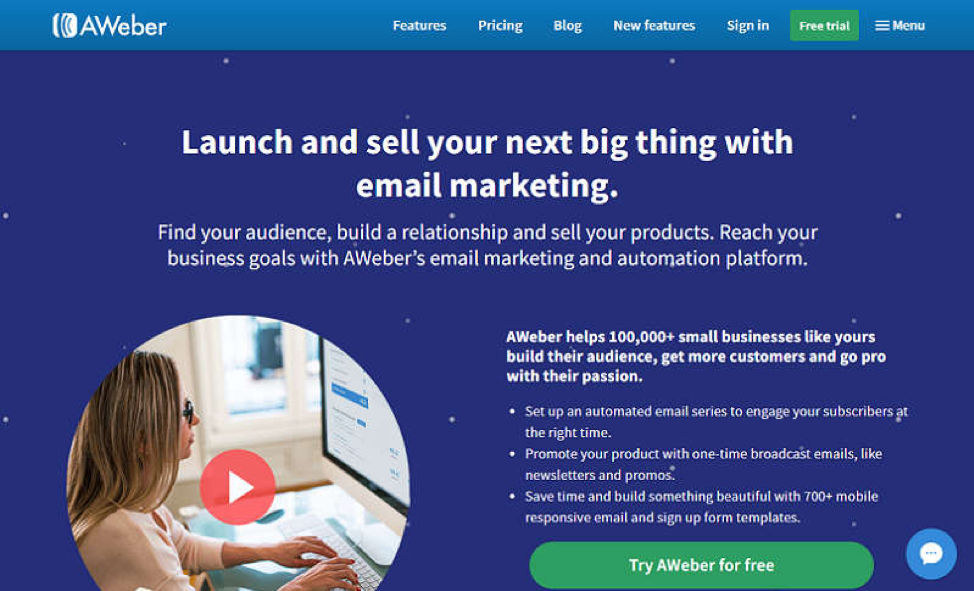 2. AWeber
Aweber was founded in 1998, and it now claims to have more than 100,000 small business customers. The Pennsylvania-headquartered company is proud of the quality of its customer service and the ease-of-use of its tools.
AWeber Package and Marketing Features
AWeber used to be the go-to email marketing solution for most industry pros, but it has been slipping somewhat. It's still an excellent choice, just not the dominant force that it used to be. The main reason for this is that the company hasn't upgraded its product sufficiently to incorporate all the new developments in the field.
The autoresponders are a prime example of this. While AWeber says that it invented the whole idea of autoresponders, in their current incarnation, they aren't among the best of the best. There are only a few triggers that can activate them, and if you wish to set up more complicated sets of behavior, you'll have to delve deeply into the nitty-gritty of the logic to get it to do what you want.
Actually, the level of automation within the suite as a whole is a bit lacking. This will affect your ability to craft exactly the types of sales funnels that you want. Nevertheless, what automated features are present are nicely designed and simple to use, so these limitations will likely only come into play if you're a power user.
AWeber boasts some of the widest third-party compatibility that we've ever seen in any email marketing product. The following are just a few of the outside applications that you can set up to work together with this platform:
PayPal
WordPress
Drupal
Salesforce
Zendesk
Newsletter creation is quite pleasant using the included WYSIWYG editor. More than 700 predesigned templates await your perusal, and although many of them are not especially appealing, you can edit them fully to your liking. There are elements that you can place in your email, like buttons and images, and you can adjust the properties of these "blocks" to customize them. One convenient touch is that drafts are auto-saved every two minutes, sparing you the agony of lost work.
The email generator delivers responsive output, so when you spring for AWeber service, your newsletters will appear attractive on any type of device. Frustratingly, though, you won't be able to see a preview of what your email looks like on a smartphone or tablet. The only way to "preview" for mobile is by sending a message and opening it on an appropriate display.
You can bucket your contacts into separate segments and send different emails to them. However, it's not possible to send one email to multiple categories of recipients at the same time.
AWeber Analytics
The analytics that AWeber provides are broken down into more than two dozen reports, which you can access online or download for later viewing. The amount of data shown is extensive; however, it may be difficult to make sense of it all because the default online dashboard view breaks up the information into three separate areas. One a more positive note, you can connect AWeber with Google Analytics for more potent analysis options.
AWeber Extras
Perhaps the coolest extra goodie at AWeber is that every user gets free image hosting for all files of 10 MB or less. Moreover, the organization will place at your disposal thousands of royalty-free graphics that you can incorporate into your emails at no additional charge.
AWeber Customer Assistance
The customer support team at AWeber can be reached via toll-free telephone number, website live chat, and email. The caliber of the customer service specialists is quite high, and reports can be found across the internet testifying to their knowledge and speed.
If you're the type of person who wishes to do things yourself, then you'll be happy with the educational materials housed on the firm's website. Free webinars, a thorough knowledge base and video tutorials are designed to appeal to both newbies and veteran marketers alike.
AWeber Pricing
The cost of signing up for AWeber is $19/mo. if you have 500 or fewer subscribers. For between 501 and 2,500 subscribers, this increases to $29/mo., and the tiers go all the way up to $149/mo. for 25,000 subscribers. Customers with an even higher number of subscribers can request a custom quote. There's a quarterly discount of 14 percent, and if you pay annually, you'll get 14.9 percent off the regular price.
One of the great aspects to AWeber's offering is that there are no artificial limitations placed on lower rungs of the service ladder. You'll be able to employ the full panoply of tools and functions no matter which monthly program you select. The same is true of the 30-day free trial, which lets you sample the marketing service of AWeber before committing to a long-term arrangement.
AWeber Overview
Price: A-
Features: B+
Automation: B
Customer Support: A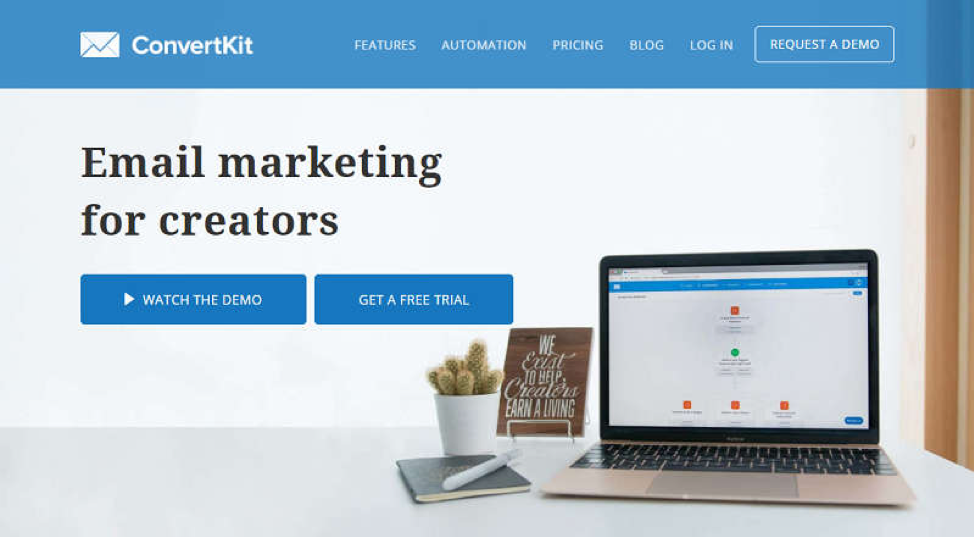 3. ConvertKit
ConvertKit is a newer entrant on the scene, having opened its doors in 2013. With a small crew of just a few dozen employees, ConvertKit has opted to concentrate on a particular type of customer: bloggers and other creative types who don't want to have to go through a steep learning curve.
ConvertKit Package and Marketing Features
There are significant gaps in the features of ConvertKit, but most of them are in place by design. Simply put, the goal was to make a piece of software that's accessible to as many people as possible, so some advanced functions were excluded.
For instance, the content creation tools have only a few templates, and customization possibilities are severely limited. You're restricted to:
3 signup form styles
3 landing page templates
5 email templates
The idea behind such a paucity of predesigned formats is that email marketing is all about text: Images, borders, background colors and other frivolities are just distractions in the majority of cases. ConvertKit has some of the highest deliverable rates in the business, so they're definitely doing something right.
One interesting element to the newsletters you can send is that you can place tags within them to have different content shown to particular customers. This means you don't have to rewrite your entire message to target separate groups of users.
Speaking of segmentation, it's done through tags rather than lists. Whenever one of your contacts performs certain actions, he is she will have a tag applied to them. Then when you set up automated processes or send out an email manually, you can choose which tags will receive it.
The automated responders in ConvertKit combine efficiency, flexibility, and straightforwardness. Even novices can use the graphical workflow builder. You can add triggers, conditions and actions to manage the series of messages sent to your readers. There's also a rules-based automation system that might appeal to those who are not especially visually oriented.
Something that ConvertKit excels in is list cleaning. By removing cold leads from your database of subscribers, you can improve your metrics and stop marketing to individuals who are not interested in your products. ConvertKit lets you identify and tag such people rapidly, and then you can send them one final message inquiring if they wish to remain subscribed. Purge those who don't reply, and you'll keep your lists down to a manageable size.
ConvertKit Analytics
If there's any place where the "keep it simple, stupid" philosophy of ConvertKit really shows in a negative way, it's in the reporting section. The list of stats shown here is very rudimentary, and it doesn't even contain the bounce rate of the emails you send!
ConvertKit Extras
You don't really get a whole lot beyond email-related elements when you subscribe for ConvertKit. This is in keeping with the goals and vision of the ConvertKit ethos.
ConvertKit Customer Assistance
If you should ever encounter a problem at ConvertKit, then you can send a message to support or open up the live chat interface. The company gets high marks for the quality of its customer support with accurate answered provided quickly.
If you want to try to troubleshoot your own issues, then you can visit the knowledge base section of the website where there are user guides, FAQs and how-to articles. There are also periodic one-hour workshops that cost nothing to participate in.
ConvertKit Pricing
The lowest tier of ConvertKit is for those who have 1,000 or fewer subscribers, and it costs $29/mo. Customers with between 1,000 and 3,000 subscribers must pay $49/mo. The third level of service is for those with up to 5,000 subscribers, and it runs $79/mo. Anyone with more subscribers than this has to get a custom quote. The only difference between the various plans is that those with a custom program get free migration from their previous platform.
Start your free trial of ConvertKit today. It's good for 30 days. When you purchase an annual plan, you only have to pay for 10 months and get the other two for $0!
ConvertKit Overview
Price: B
Features: B-
Automation: A-
Customer Support: A+

Boost Your Company's Growth
Now that you know all about the organizations that provide the best email marketing service on the web, you should take advantage of this information to sign up for an account now. Once you have your new email marketing setup in place, you'll start to see a lot of new clients appear at your virtual doorstep, and existing buyers will return for more.
No matter whether you select GetResponse, AWeber or ConvertKit as your provider of email marketing services, you'll get to enjoy a 30-day free trial. If the site you choose turns out to not be to your liking, you can cancel without having wasted any of your cash. This is a pretty good deal if you ask us.