Funding Options For Dental Practices
Running a successful dental practice requires a considerable amount of money. Some existing dental practices may need money to upgrade old equipment or to pay for large unexpected expenses.
What if your dental practice is in an old building where unsafe pipes are discovered? Suddenly, you need to come up with extra cash to renovate the plumbing.
Would your dental practice be prepared for an emergency like this?
There are several loan options for dentists looking to expand their practice by buying inventory, upgrading equipment, completing renovations and other expenses that can't be paid upfront.
Funding Options
Est. APR
Max. Loan Amount
Min. Credit Score

Funding Option

Est. APR

Starts with

9%

Max. Loan Amount

$ 500,000

Min. Credit Score

600

Get Started

Funding Option

Est. APR

Starts with

24%

Max. Loan Amount

$ 250,000

Min. Credit Score

560

Get Started

Funding Option

Est. APR

Starts with

18%

Max. Loan Amount

$ 5,000,000

Min. Credit Score

600

Get Started

Funding Option

Est. APR

Starts with

9%

Max. Loan Amount

$ 500,000

Min. Credit Score

680

Get Started

Funding Option

Est. APR

Starts with

5%

Max. Loan Amount

$ 500,000

Min. Credit Score

500

Get Started
Types of Loans for Dental Practices
When it comes to choosing a type of loan, dental practices usually have several options. The owner's credit or business credit history is an important factor with most types of loans. Interest and repayment terms are also important considerations.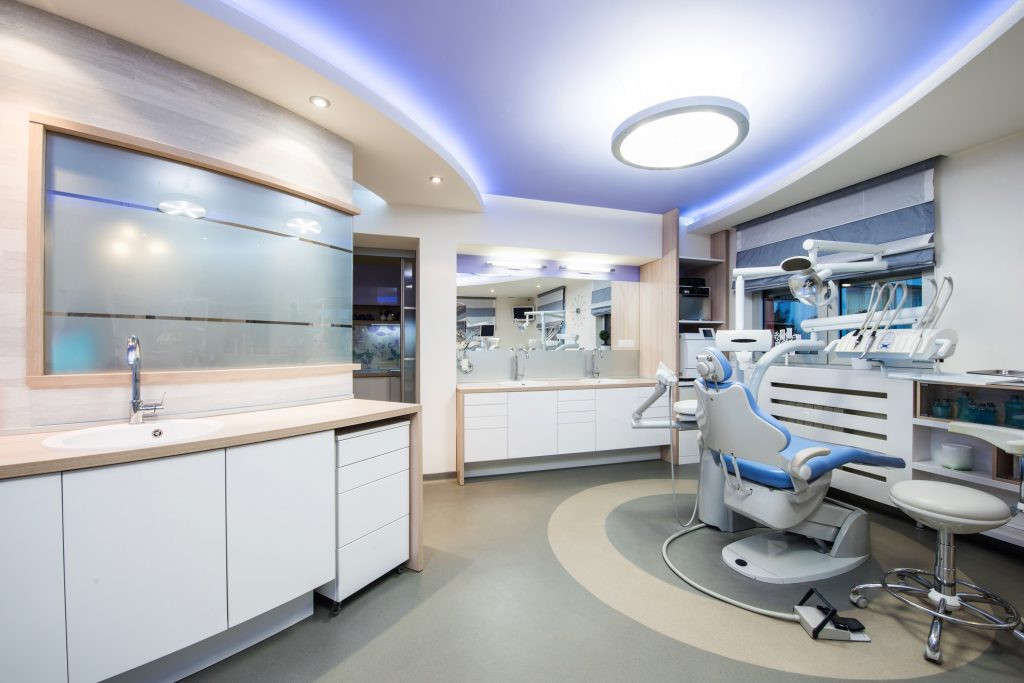 Below are a few types of loans commonly used by dental practices:
Small Business Loans
Small business loans are backed by the government and have interest rates that are usually less than 10 percent. Repayment terms on small business loans may be as long as 20 years.
These are secured loans and can be viable options for dental practices seeking a lower monthly payment for a larger loan sum.
Merchant Cash Advances
A merchant cash advance could be a solution for quick money upfront. It is ideal when the money can be repaid in a very short amount of time to avoid extra fees.
These loans are based on income rather than credit, so a large dental practice with lots of customers paying by credit card would benefit the most.  Plan to repay a merchant cash advance within a month or two as this is not a long-term financing solution.
Invoice Factoring
With this type of capital funding, invoices are considered the collateral on a loan. Unpaid invoices are considered assets and a dental practice offering payment plans should have plenty of invoices to borrow against.
Like MCA's, invoice financing loans are given on a short-term basis and come with interest rates between 10 percent and 15 percent.
Equipment Financing
Dental office equipment can be very expensive– we know!
Equipment financing is the perfect solution for upgrading technology because the machine itself is used as collateral, getting you a lower interest rate. Your repayment term on medical equipment financing can be as long as the expected life of the equipment.
Professional Loans
Since dentists are considered professionals, they can usually obtain these loans without much effort. Professional loans come with interest rates below 10 percent and have repayment terms of several months. These loans may be secured or unsecured.
5 Great Reasons for Dentists to Get a Small Business Loan
When you need an influx of cash for your dental practice, you may be wondering about your options. Small business loans can be an excellent choice in a number of different situations.
The following are five situations in which a small business loan can benefit you and your practice:
Purchasing New Tools and Other Equipment
If an important piece of your equipment breaks or you're looking to upgrade your tools, you're going to need to put down some serious cash. Many of these items are quite costly, often making it difficult for dentists like yourself to replace them as quickly as they need to. With the help of a small business loan, it becomes far easier to acquire the items you need in a timely fashion.
Relocating or Remodeling Your Office
If your lease is up and you're looking to relocate your practice or you're interested in remodeling your office in order to make it more aesthetically pleasing and welcoming to your patients, a small business loan can help you cover the often significant costs. When it comes to a dental practice, getting and keeping patients is what it's all about. A modern, state-of-the-art look is crucial, and a small business loan can help you get there.
Merging with or Acquiring Another Dental Practice
Over the course of your career, you may find it to be in your best interest to merge with or acquire another practice. While this can be a lucrative decision, the initial cost can be quite significant. Depending upon the amount of money required, a small business loan can be a great option and can provide you with the financing you require.
Beginning a New Advertising Campaign
Marketing is a very effective strategy but can be quite expensive as well. If you're trying to attract new patients through online and newspaper ads or television and radio commercials, taking out a small business loan can be a great way to maximize your exposure.
Refinancing Your Loans and/or Consolidating Your Debt
When you start your practice, odds are you're going to be in quite a bit of debt. Between all of the equipment you need and the real estate, the initial price tag on your practice can be quite high. If you're looking to lower the amount you pay each month in order to make your payments more manageable, a small business loan can be a great idea.
Dental Practice Loan Obstacles
One of the biggest obstacles for dentists seeking a loan (as well as anyone else looking to borrow) is demonstrating creditworthiness. The length of time practice has been in business and its monthly revenue are also important. Having adequate insurance also helps when trying to obtain a dental practice loan.
There is a silver lining for dentists: lenders look at professionals who offer vital services or health services as less risky to lend to.
To qualify for a dental practice loan, it is important to have been in business for at least 6 months and have $8,000 or more in monthly revenue. A solid business plan, adequate insurance, and proof of profitability all help in getting approved.