OnDeck Review: Here's How the Largest Online Lender Measures Up
This popular alternative lender has provided $6 billion in financing worldwide since its launch in 2007.
That makes them the largest online lender in the country dedicated to small businesses, working with more than 50,000 companies to date.
With a strong reputation for customer satisfaction, an A+ rating with the Better Business Bureau and a 9.4/10 rating on TrustPilot, OnDeck Capital is known for serving up the term loans and lines of credit that small businesses need to grow and expand.
Read this OnDeck review to find out whether this is the lender for you and how you can qualify.
A Review of Funding with OnDeck Capital
Part of OnDeck's success comes from its commitment to customer service and support.
Loan officers are well-trained to help guide you through your financing decision and the process.
They have the flexibility to understand your unique business needs; in fact, they're versed in more than 700 industries.
Plus, advisers are quick to respond to both calls and emails so you're not left wondering about a time-sensitive question or concern.
So what kind of financing options does OnDeck offer?
OnDeck Capital Review of Loan Options
Term Loans
The first type is a term loan, which can be as large as $500,000.
There are short and long-term lengths available, ranging from 3 to 36 months, but in either case, loans are generally used to fund initiatives that grow your business.
Just be aware that when you take out an OnDeck term loan, you'll be charged a one-time origination fee anywhere between 2.5% and 4% of the total loan amount.
Lines of Credit
In addition to a term loan, you also have the option to request a line of credit up to $100,000.
The benefit of this choice is that you're only charged interest when you actually draw funds.
The money can be used for working capital, both expected and unexpected, especially if it's something that can't be charged on a credit card.
When you get a line of credit, you'll be charged a $20 monthly maintenance fee, which is waived for six months if you make a draw of $5,000 or more within the first five days of opening your account.
Each credit line draw must be paid off within six months, so keep that in mind when choosing a line of credit over a term loan.
Rates can be high depending on your business financials and other factors, starting off as low as 8.5% and going as high as 79% APR.
Still, even customers with higher rates state that the value for their business was a positive one.
OnDeck Review of Requirements – How to Qualify
You must be in business for at least one year; however, the median business age of all OnDeck customers is actually seven years.
Your annual revenue for the last 12 month period should be $100,000 or more, and many have gross revenue of at least $450,000.
Additionally, you must have a minimum personal credit score of 500, but again, the typical customer skews higher with a credit score of 660 or higher.
While OnDeck boasts lending to 700 industries, there are some restricted business types that it won't lend to.
If your company falls into one or more of these categories, you'll need to look elsewhere for a business loan.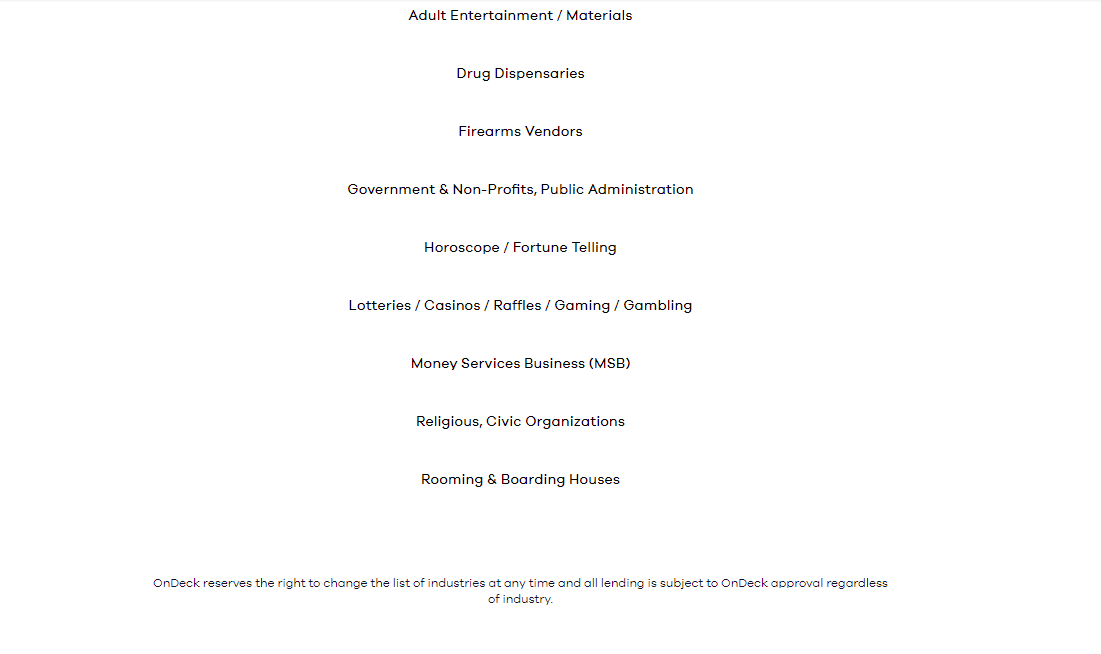 OnDeck Review of the Request Process
Like most online lenders, requesting a loan or line of credit with OnDeck is easy.
You can complete the request directly on their website, or by calling them directly.
You'll receive a decision in a matter of minutes and are not obligated to actually take out the loan at that time.
Prepare ahead of time with business bank statements from at least the last three months, a voided check, and a copy of your driver's license.
You'll also need to give you social security number so OnDeck can access your personal credit information.
In most cases, everything can be done entirely online and you don't even have to talk to anyone on the phone (unless you want to!)
How You Receive Your Loan Funds from OnDeck
Once you sign the loan contract, you can receive your loan funds in as little as 24 hours.
An origination fee is deducted from the loan amount before you receive your funds, so make sure this is part of your budget when allocating your money.
For term loans, you'll have either daily or weekly payments automatically deducted from your business account.
For a line of credit, your bank account will have weekly deductions taken out.
To keep track of your financing, you can take advantage of constant account access through OnDeck's web platform or mobile app.
You can also make extra payments, which can save you money on interest over the life of the loan.
It's also important to know that like some other lenders, OnDeck files a UCC-1 lien on your business during the funding.
This is fairly common, but should still be taken into account so it doesn't affect your overall business strategy.
OnDeck Review – The Final Word
If your small business has strong revenue numbers and your personal credit is decent, OnDeck Capital can provide you with flexible financing opportunities.
Since there's no obligation to take out a loan and the decision process is so quick, it's worth submitting a request if you're in the market for small business funding.
It will likely result in an inquiry on your credit report, but if you're actively seeking financing in a short window of time, all of your credit checks should register as a single pull.
Below are some other popular alternative lenders you can check out and make a request from one by one:
If that sounds like a lot of work, you can always start the process with LendGenius' simple online form to potentially connect with a lender fast.
Your call!