Peerform Personal Loans: 2019 Review
Peerform is a lender that offers personal loans for many uses. Whether you need a loan to finance a car or extra cash to pay for wedding expenses, Peerform has options.
Peerform has a unique edge over other lenders because it's a peer-to-peer lender. What does this mean?
Instead of borrowing solely from a financial institution, with a peer-to-peer lender you borrow from other people like yourself who invest in loans.
In this Peerform review, we'll discuss loan terms and how to borrow using this peer-to-peer platform.
Peerform Review: What is Peerform?
Peerform was founded in 2010 by Wall Street executives who wanted to make loan products more accessible to individuals and small business owners. Peerform loans are unsecured and don't require collateral.
The online process for borrowing from a peer-to-peer lender like Peerform is slightly different than borrowing from a typical lender. First, you register for an account and answer questions about the type of loan you need.
Then you receive loan terms to choose from. After you select a loan product, your loan will appear in the loan marketplace where investors can evaluate and choose to invest in it.
Peerform Loan Terms
Peerform personal loan amounts are available from $4,000 to $25,000. Peerform also has a special debt consolidation product that's open to consumers who receive an invitation only. You can borrow from $10,000 to $35,000 for debt consolidation.
Loan interest rates can range from 5.99% to 29.99% APR. Like most lenders, the lowest interest rates are given to borrowers who have the best credit scores.
Peerform assigns you a Peerform Grade from AAA to DDD based on your creditworthiness to help investors evaluate loans. The Peerform Grade you're assigned will determine your interest rate and origination fee.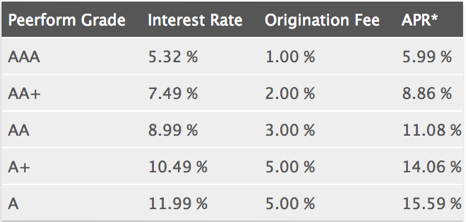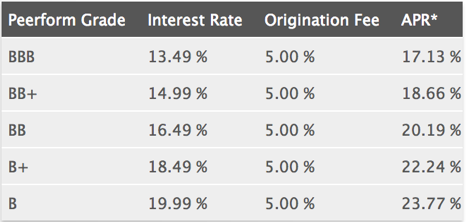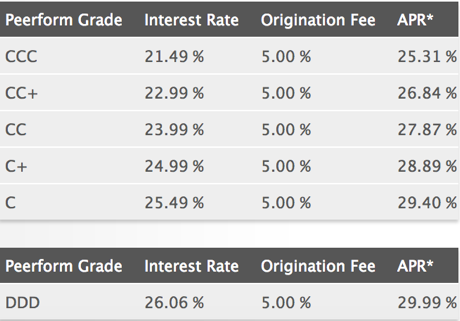 Loan terms are available for 3 to 5 years. The origination fee can range from 1% to 5%.
What can you use Peerform for?
Here are some ways you can use a Peerform loan:
Home Improvement
Medical Expenses
Moving and Relocation Expenses
Car Financing
Note: You cannot use a Peerform loan to refinance education loans or to cover education expenses such as tuition and fees, books, supplies, miscellaneous school expenses, or room and board.
Peerform does have minimum eligibility requirements. You must:
Be a U.S. citizen or permanent resident.
Be at least 18 years old (or 19 years old if you're a resident of Alabama or Nebraska).
Have U.S. social security numbers.
Have an account at a U.S. financial institution with a routing number.
Meet other credit criteria (you'll automatically get declined if you have a credit score less than 600).
Have a debt-to-income ratio below 40% (excluding your mortgage).
Have a credit profile without any current delinquencies, recent bankruptcy, tax liens, judgments or non-medical related accounts in collections from the last 12 months.
Have at least one open bank account and one revolving credit account.
The Peerform Process
The Peerform loan request process starts with the form. You can complete this for free and without a hard credit pull. This is how the rest of the process works if you're approved:
Get a loan offer. You review and decide if the offer is right for you.
Your loan gets listed in the marketplace. Loans appear in the marketplace for up to two weeks. The timeframe that it will take to get your loan funded depends on the investors attracted to your listing. Your request will be canceled at no cost (or impact to your credit score) if not enough investors fund your loan. If you raise enough to get full funding (or meet requirements for partial funding), your loan will move forward to the final review phase.
Peerform takes verifying your identity seriously. You'll be asked to verify your bank account, email, and phone number. You'll also need to verify your income with pay stubs.
The origination fee will be subtracted from your loan. Funding can happen in up to two weeks depending on how soon you attract investors to your loan.
Peerform Highlights & Drawbacks
What are the highlights?
If you have good to excellent credit, the interest rates offered through Peerform are very competitive. Peerform is highly transparent with its borrower rating strategy, fee structure, and loan terms.
The loan requires no collateral which is also a major plus for personal loans.
You can complete the entire loan process online, and the request is free. The interest rate is fixed, and you make monthly payments until you pay the loan off. There are no prepayment penalties, but Peerform does ask that you submit an early pay off request before moving forward.
What are the drawbacks?
The main drawback with peer-to-peer lending is that there's a chance that you won't get money fast.
You have to give investors an opportunity to review your loan and choose to fund it before you get any cash.
However, if you have good credit and can wait for funding, Peerform's competitive interest rates could make the wait worthwhile.
If you're interested in connecting with a lender, fill out the simple form below.